Robo
Stripper
The Wolff Robo110v Stripper is the ideal machine for removing large areas of carpet,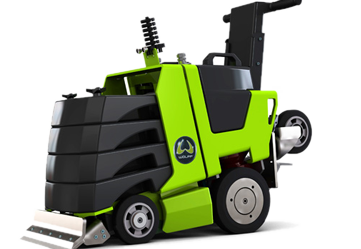 sheet vinyl, Linoleum, PVC, Rubber, Cork and needle punch etc.
Hardwood parquet, multi-layered parquet, semi-flexible and ceramic tiles can also be removed to a limited extent.
Needle punched floor coverings, carpet, sheet vinyl, linoleum and PVC, should be pre-cut in blade widths.
This remote controlled (Via Cable) machine can be used for long periods, without the worry of any hand/arm vibration issues, the operator does not need to tough the machine, other than when changing the blade. With a stroke rate of 3000 strokes per minute and a speed of up to 18.8 metres per minute it is easy to see how you can acheive an impressive removal rate on most coverings.

| | |
| --- | --- |
| Specifications | |
| Power Supply | 110v 50hz |
| Power Consumption Drive | 2 x 900w |
| Power Consumption Impact | 1,300w |
| Stroke Rate | 3,000 stroke per min |
| Total Weight inc. Additional weight | 385kg |
| Sound Pressure Level | 89.6dB(a) |
| Sound energy Level | 100.6 dB (a) |
| Hand/Arm Vibration | <2.5m/s |
| Blade Width | 350mm |
| Speed | 0-18.8m/min |
| Speed Reverse | 0-25.1 m/min |