Mixall
Mixer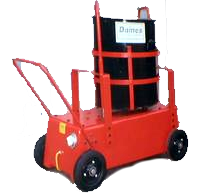 Mixall Mixers are a most practical and efficient range of machines. They are small enough to be operated single- handed, but have a remarkably large output for their weight and size.
The equipment consists of a pail or drum inserted into a cylindrical cage, which is made to rotate by a motor and gear drive. Paddles are mounted on the frame of the mixer, with their blades inside the pail. As the pail rotates with the cage , the mix is agitated by the paddle blades and forces it into the centre of the pail. the solid blade paddle also pushes the materials upwards, whilst the perforated blade paddles increase the agitation by forcing the materials through its perforations.
The 32Ltr drums are easily replaced simply by lifting out of the frame, which makes it a very versatile machine for mixing different colour materials or changing from resins to adhesives,mortars or cements in seconds. These drums can be purchased separately if required
Heavy Duty Solid Paddle (standard)
For mixing epoxy resins, adhesives, mortars, cements, etc.
Perforated Paddle
For mixing Liquid plastics, paints, polyester resins, powders, etc.
| | |
| --- | --- |
| Specifications | |
| Motor | 110v 1 hp 2.5kva |
| Length | 660mm |
| Width | 355mm |
| Height | 762mm |
| Power Requirements | 110V , 50-60Hz |
| Mixing Drum | 32ltr |